Facilities
Please note that I am unable to take on any new dogs, as my regular customers completly fill my booking slots. This page supplies information for existing customers and also for people interested in assisting us by taking in dogs themselves, to see the type of the facilities that we can provide.
Further information is for
exisiting customers only
At Dogs On Holiday I look after your dog in the comfort of my own home. To help with the settling in, you may also bring items that your dog already knows, such as toys, bed, lead & collar, feeding dishes and so on. These familiar items around him have proven on many occasions to speed up the settling in period and with a lot less stress for your dog. Where possible, I will also try to keep as near to your normal routines as possible for walking, feeding and where necessary, medication and treatments, so again your dog stays in his normal daily routines.
As well as a safe and caring home environment, I have access to a large field that I use for walking, which is a safe environment for dogs and completely free from traffic. There are more fields and woods further afield for the more energetic dogs. So whether your dog prefers to walk on or off the lead, we have the facilities available to give him a great time. He really will feel like he is on his own holiday.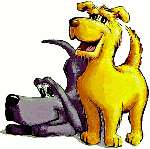 As an owner and minder of dogs for many years, I already have plenty of experience with many dogs in the administering of medication and the treatment of any sores or wounds. Your dog will be in safe hands with me. Just bring any medications when you drop him off along with instructions for use and I will ensure he is looked after. Should your dog fall ill during his time with me, I will make arrangements with your own vet (for preference) our my vet, if necessary, to ensure the best possible treatment is given, just as you would do yourself.