Welcome to Dogs On Holiday
Here at Dogs On Holiday, we provide specialised dog boarding at home for dogs in and around the Doncaster area.
My dog boarding at home service has become so popular in over the years that my regular customers now fill all of my bookings. So I am unable to take on any new dogs. Sorry for any inconvenience.
This site is still being kept open even though I cannot take on any more customers, in an attempt to find other people willing to look after dogs in their own homes, just like I do, to extend and expand this valuable service to the many dog owners seeking this increasingly popular dog minding type of service.
If you, or someone you know, could be interested in assisting me to help with boarding dogs, then please see my support page if you are interesting in looking after a dog yourself, either on an occasional basis or even something more full time in the same way that I do. Any help you could provide would allow me to extend this useful service and help out even more local dog owners, whilst giving you the opportunity to enjoy the companionship of a dog on a temporary basis. I'm willing to give you plenty of start-up help and advice, as well as ongoing advice and support for as long as you may need it.
So if you like the idea of working from home, on your own terms, with the company of man's best friend, then read on. I recommend you also have a look at my support page for more detailed information.
Further information is for
exisiting customers only
I look after dogs in my own home whilst their owners are on holiday, away with work, in hospital or for any reason where they cannot look after their pet themselves. Anything from an overnight stay or over a weekend and onwards to several weeks at a time, as needed.
Some owners don't like the idea of pets going into kennels no matter how well they are cared for. It is a home from home when they come to me, with no being shut up in a run. The dog becomes part of the family and have the run of our home, and I treat them as if they were my own.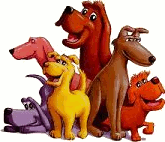 If you would like to assist us by looking after a dog on an occasional basis (when we have too many requests at one time to manage ourselves), then please see our Support page for more information on how you may be able to help, whilst enjoying the short term companionship of a dog. This may be particularly suitable for people who love dogs, but are not in a position to take on the full time responsibility of dog ownership.