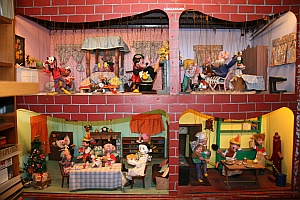 Animated Display Unit
In the summer of 2006, Diane purchased a wonderful animated Pelham Puppet Animated Display Unit from Tracey in Torquay through an eBay auction. This was something as a surprise as we had expected to be out-bid by far more serious Pelham Puppet collectors than ourselves. But luck must have been on our side that day and so we became the latest owners of this fantastic item.
These Pelham Puppet pages on our site tell about the interesting time we had getting the very large and very heavy unit home, what little we know about the history of the display unit itself and we will keep you up to date with the ongoing project of restoring the theatre. That is currently being delayed, as we have not yet had the man-power necessary at one time to "lift and shift" the unit onto the purpose built base we have had made for it. The site also has a gallery section where you can see what the unit looked like when we originally purchased it and will eventually trace the restoration project when we have the unit in position and time allows us to make progress. There are currently photographs and we hope to include some video so that you can see the unit in action, once I get access to a digital camcorder and supporting software.
Please use the extra links in the navigation bar to the left to delve further in to the Pelham Puppet section of our site. We hope you enjoy finding out about the display unit as much as we enjoy being able to show it to you. I just hope the site manages to capture some of the magic of this wonderful item so that you can enjoy it as much as we do.