Documentation
Just as a way of reference, I will place any official documentary evidence we obtain on this page.
FreeBMD
I have found the following references from the FreeBMD web site:
Marriage of Harry Bensley (father to our Harry) and Susannah Elmer in September 1884 in Thetford. (By then, they already had several children, including our Harry)
Marriage of Harry Bensley and Kate Green in September 1898 in Thetford.
The Copyright restrictions on some of the following original documents don't allow me to post the originals on an internet web page and I intend to honour that. But I'm sure I can supply a summary of any information my mother and I find, in my own format (but not the original documents). So here are the summarised details for various documents:
1901 Census Record for Harry Bensley
Civil Parish: Croydon (part of)
Town: Croydon (part of)
Address
Rooms
occupied
Name
Relation
to
Head
Sex
Age
Occupation
Where born
34 Woodside Avenue
2
Harry Bensley
Head
M
25
General Labourer
Norfolk, Thetford
Kate
Wife
F
25
Suffolk, Ipswich
Alice S.
Daughter
F
1
Norfolk, Thetford
Lily E.
Daughter
F
7 Months
Norfolk, Thetford
Registration District Brighton
Death in the Sub-district of Brighton Outer in the County borough of Brighton
When and Where Died
Name
Sex
Age
Occupation
Cause of death
21st May 1956
42 Riley Road, Brighton
Harry BENSLEY
Male
79 years
Of private means
I. Hypertension
II. Chronic Bronchitis
Duodenal Ulcer
Extracts from Birth Certificate for my Grand Father
Registration District Worthing
Birth in the Sub-district of Steyning in the County of Sussex
When and Where Born
Name
Sex
Father
Father's occupation
Mother
24th December 1908

NewHorton Beeding

Henry Claude
Boy
Henry Claude Beasley
Of independent means
Mabel Beasley formally Reed
Unfortunately, this does not prove the link between my grandfather and Harry Bensley. But the explanation passed to my mother from her own father (Henry Claude, the child this document refers to) is that Harry gave a false name to distance himself from his illegitimate child.
As an aside, although my grandfather was christened Henry Claude, he was known as Jim for most of his life, and referred to as Jim in other places in this web site. In fact, to cloud matters further, the name on his death certificate is given as James Henry Beasley as this is what his (second) wife believed his official (christened) name to be!
Harry's Army Recruitment Record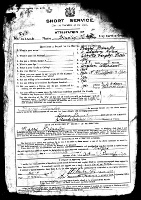 Harry's Army Recruitment Record dated 19th November 1915.