Official Story
Harry Bensley had a very interesting episode in his life:
He was reputedly a West-end playboy, a "bit of a rogue" and a womaniser. He had plenty of money, through investments in Russia, which allegedly earned him around £5,000 a year (a huge amount at the start of the 20th centurary).
This particular story goes like this: At a dinner one evening in 1907, at his club "The National Sporting Club, London", two gentlemen; John Pierpoint Morgan and Hugh Cecil Lowther Lonsdale (5th earl of Lonsdale and of whom boxing's Lonsdale Belt is named after) were arguing whether it would be possible to walk around the world without being identified. Lonsdale said it could be done, where Morgan said it could not. Morgan put up a 100,000 dollar (then £21,000) challenge, and Harry, on hearing the argument, took it up. At that time, it was the largest ever recorded bet! Many conditions were also placed on the bet, including that he was never to be identified, he had to finance himself (starting off with only one pound sterling), only take a change of underclothes, and he had to find a wife on his journey, without letting her know who he was. A particular route was planned consisting of 169 English towns and cities, plus 125 others in 18 counties around the world. Morgan also financed an escort (often referred to as The Minder) to travel with him to ensure the terms of the wager were kept! At this time, the name of the escort is unknown (can you help here?) but my mother has an article which suggests he was an American. He is pictured on many of the postcards that Harry sold to finance himself.
Various reports list most of the countries that he had to visit in order which usually include:
England, Scotland, Ireland, Canada, USA, South America, New Zealand,Australia, South Africa, Japan, China, India, Egypt, Italy and France. An article in the Times the day after he started the journey stated that he had to "...touch every county in England, Scotland and Wales..." which adds Wales to that list. The Guardian covered the story on 29th July 1998 and mentions Persia, Turkey and the Balkans as well. However, I have been sent a copy of an official pamphlet from someone (sorry details lost - please contact me again as I very much want to acknowledge you), which contains all the conditions and a full list of places he had to visit. For the first time on the internet (March 2006), these are now detailed elsewhere on this web site.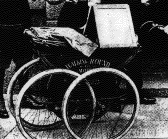 He had an iron mask made from a suit of armour, which weighed 4 and a half pounds, and began his journey from Trafalgar Square amongst cheering crowds, pushing a spindly wheeled pram (totaling 200lb) on 1st January 1908 (aged 31), accompanied by the "minder". The pram and a placard described his task, and the helmet had another placard with "Walking around the World" written on it. On the pram was an A-board upon which he displayed postcards of himself, that he sold to earn money.

He was once arrested by a zealous policeman at Bexleyheath, Kent, for selling postcards without a Hawker's licence. Harry arrived at his trial wearing the mask, and the angry magistrate insisted that he remove it. But the wager was explained and Harry was then allowed keep his identity a secret, and was actually tried under the name of "The man in the iron mask". He was fined 2s. 6d. (12½p) and allowed to continue his journey. At Newmarket races he met and sold a postcard to Edward VII for five pounds. There are two contradicting stories about their meeting: (1) The amused king asked for his autograph, but as that would have revealed his identity, Harry refused. (2) Harry asked for the King's autograph, but not being the kind of thing royalty did in those days, the King refused! (Just goes to show you can't trust anything you read!)
He claimed to have received over 200 offers of marriage flooding in, some from titled ladies allegedly, from places as far apart as England, Europe, Australia and America, but he declined them all. Our research has subsequently discovered that he was already married to Kate Green, a pianist originally from Manchester, in a ceremony in Thetford in September 1898. They already had two children by the time Harry started the journey and this is possibly why the official pamphlet states that the condition to marry on the journey "... was already fulfilled".
Of the journey itself, we have very few details. A newspaper got to hear of the extraordinary adventure, and offered a reward of £1,000 to anyone who could find out his identity. On one occasion, a chamber maid hid under his bed in an attempt to identify him and claim the reward, but she was discovered in time. Photos in our possession (and displayed on this site) do show a woman (often with a child) with the two men at different locations, though she is never mentioned in the adjoining articles! Living family members have been able to positively identify this woman as Mabel Reed, my great grandmother, and not Kate, his wife.
After six years, he had passed through 12 countries and many cities including New York, Montreal and Sydney. But on reaching Genoa, Italy, in August 1914 and having covered 30,000 miles, with only six countries left to visit and 7,000 miles left to walk, the First World War broke out. Once again, there are conflicting reports of what happened next: (1) Being patriotic, he returned to England to fight for his country. (2) Morgan, worried that his steel empire would be threatened by the outbreak of war, called off the bet. Harry was said to be devastated when Morgan's messenger (or telegram in one report) reached him with the news, and he returned to England, a devastated man. He was never to leave our shores again. Choose which version you believe. In any event, Morgan still awarded him £4,000 for his achievement, which he gave to charity. This was something as a surprise, as he was not known to be a generous man.
He fought in the army, but was invalided out after a year. Following the war, his investments in Russia crashed in 1917 with the Russian Revolution, leaving him penniless. Between the wars he took on several jobs, which included cinema doorman, a Y.M.C.A. warden and twice a councilor for Labour at Wivenhoe, Essex. He went on to survive the second world war, in which he was a bomb checker at an ammunition factory, according to one report.
Later in life he fell very ill. It was only now this his illegitimate son (Jim Beasley, my grandfather - Mother's side) found out about his father (Harry) and met him several times in Brighton hospital. (Apparently they looked almost identical.) Jim found him too late to be able to help, and Harry died in 1956, three months after their first meeting, back at home in his bedsitting room at 42 Riley Road, Brighton. Kate (his wife) was with him. Most documented reports say he was eighty, but a copy of his death certificate states he died on 21st May 1956 at home, age 79.
Although there is curently no evidence to confirm exactly what happened when, I personally believe the facts from the later part of Harry's life suggest that when he returned from his journey, he left (or had already left) Mabel and returned to his family and home for the remainder of his life time.
The helmet and pram are said to have been stored in some repository; but not even Kate knew of its whereabouts. My mother would desperately love to locate them.